Up until the mid-18th Century, the red-crowned crane probably bred in wetlands throughout Hokkaido. At least a part of the population is likely to have spent winter months in eastern parts of Honshu (the largest island in Japan). It is possible that the cranes also bred in Honshu.

Protected as noble birds
The cranes were protected in Honshu in the days of the Tokugawa shogunate (regime). However, the cranes were hunted in Hokkaido. Salted crane meat and live cranes were brought to Honshu from Hokkaido. These marvels served as gifts among people in the ruling class.
Loss of protection and industrialization in Japan
When the Tokugawa shogunate ended in the 1860s, the cranes lost protection in Honshu. Due to the increased hunting pressure across the entire distribution range of the species, the red-crowned crane was thought to have disappeared from Japan by the early 20
th
century.
Moreover, the newly founded Meiji government promoted the reclamation of wetlands in Hokkaido. As a result, habitats for cranes were converted into rice paddies in the central part of Hokkaido. Only small fragments of the wetland remain in the central part of Hokkaido today.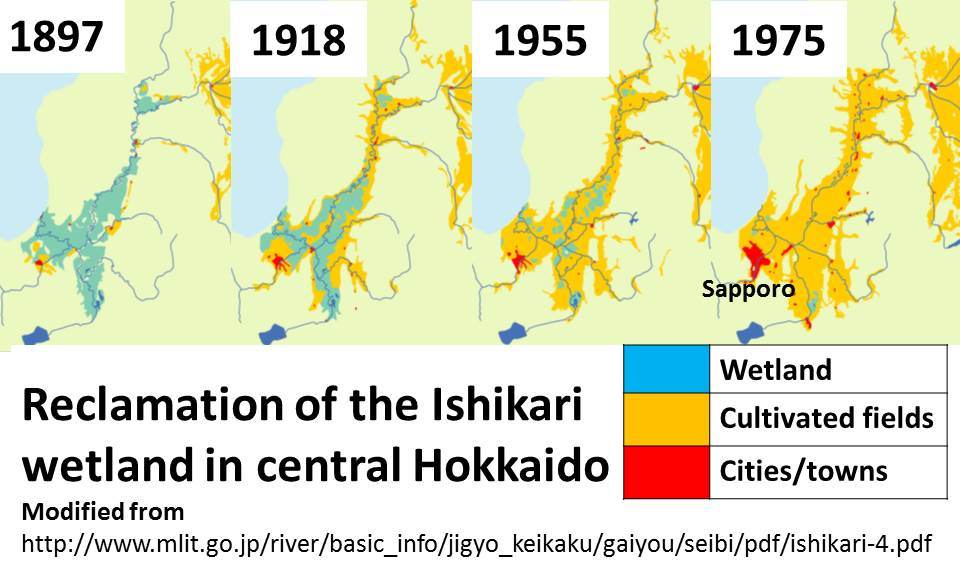 Re-discovery
Fortunately in 1924, about 10 cranes were re-discovered in the Kushiro wetland in eastern Hokkaido.
Conservation actions by local residents
In 1950, a local farmer attempted feeding corn to the cranes in winter. In early 1952, the cranes finally started to come to the corn.
Protection by national legislation
The first census was carried out in November 1952, and 33 cranes were found.
In the same year, the red-crowned crane and its habitat (2749 ha) were designated as a special natural monument by the Japanese government.

Over time, more and more cranes gathered at feeding stations. Cranes were able to access guaranteed supply of food regardless of the weather. Consequently, the population began to increase.
Efforts to reduce accidents
Between the 1960s and mid-1970s, the rate of population increase slowed down because up to 10% of cranes died each year due to collision with power lines. The marker was attached to power lines to increase visibility. These markers were effective, and the population size has been increasing steadily since mid-1970s.
Government-funded conservation measures
The national governmet has been financially supporting the three major feeding stations. The local government has also been providing financial support to several other feeding stations. Independently, some concerned local residents have also been feeding the cranes.
Protection of habitats
In 1980, the Kushiro wetland became the first Ramsar site in Japan.
The Kushiro wetland was designated as a national park in 1987.
---